SureDone Adds SEMA Data Co-Op Integration to its Multichannel e-Commerce Platform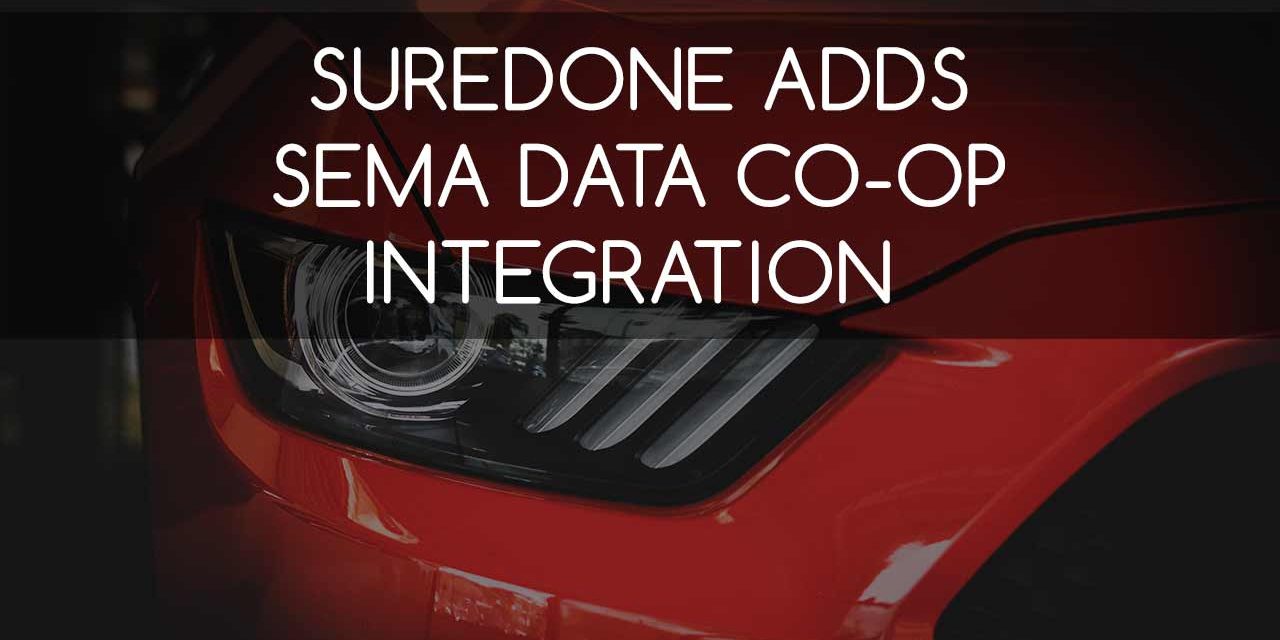 SureDone Adds SEMA Data Co-Op Integration to its Multichannel e-Commerce Platform
SureDone Extends the Reach of SDC's High Quality Data to Marketplaces
NEW YORK, Nov. 9, 2018 /PRNewswire/ — Online automotive parts retailers who are members of the SEMA Data Co-Op (SDC) will have a robust solution for access to tens of millions of parts from over 500 different brands and manufacturers along with automated listing, inventory management, order management and drop shipping. SureDone has integrated its leading multichannel e-commerce software solution with SEMA Data Co-Op's massive database of parts to populate SDC's enhanced aftermarket catalog data into SureDone's multichannel e-commerce platform.
"Having increased access to quality data from a strategic ally like SEMA Data Co-Op is a great opportunity for our customers," said Chris Labatt-Simon, Executive Vice President at SureDone. "We have an incredible platform to help our customers automate product management, listing, inventory and orders, and this alliance gives our customers great data inside the platform to build on their revenue opportunities."
Automotive aftermarket parts retailers who want to list high quality, manufacturer updated data to marketplaces such as Amazon, eBay, Walmart and Jet now have access to SDC's immense database with the ability to easily list this data, including extensive information such as detailed descriptions and product fitment. SureDone will convert the ACES fitment data in SDC's database to the eBay fitment format, increasing the value of the content on eBay Motors. Phase Two is expected to include matching UPC values to Amazon ASINs and also eBay category matching.
"When our extensive data is made available through software like SureDone it increases the value of what we offer to our membership," said Jim Graven, Senior Director of Membership at the SEMA Data Co-op. "We are pleased to have created a strategic alliance with SureDone, and we are excited for our members to have an additional opportunity to automate their business and increase their sales and revenue."
Using SureDone's advanced automation engine and their numerous partnerships with warehouse distributors, SureDone's users will be able to list products from the SDC database, connect to distributors for the latest inventory levels, consolidate orders into a single interface and then automatically route them for fulfillment using SureDone's drop shipping module.
SEMA Data Co-Op assists manufacturers in managing and distributing their product data, from product descriptions, pricing, and shipping information, to vehicle fitment and digital assets like images, videos, and PDFs and to make it available for retailers. SDC has aligned their program with the needs of the marketplaces, and now offers full do-it-for-me data assistance to help brands keep their data as fresh as possible. With the SureDone integration, this data can then be pushed from SDC's databases to SureDone immediately upon approval by a brand or manufacturer within the SEMA Data Co-Op system. SureDone customers will be able to select the data fields they wish to import and incorporate for marketplace listings. More details about the SDC can be found at www.SemaDataCoop.org or by contacting Jim Graven at JimG@SemaDataCoop.org or call 888-958-6698.
About SureDone
SureDone provides enterprise ready global multichannel listing and inventory management with connections to marketplaces such as eBay, Amazon, Walmart, and Jet, a flexible automation engine supporting the import and export of data in almost any format from and to almost any system, a robust order management system and a comprehensive open API to extend the platform. SureDone also has an extensive feature set to support the automotive and motorsports parts and accessories vertical, including fitment, kits and bundles and connections to leading distributors for inventory management and drop shipping.
These capabilities automate normally expensive and time consuming tasks while allowing for rich integrations with other applications. On the web: suredone.com or contact us at hello@suredone.com.
Media Contact:
Chris Labatt-Simon
204607@email4pr.com
877-773-6755