SureDone Adds Native EDI Capabilities

SureDone Adds Native EDI Capabilities to Its Enterprise E-Commerce Platform
SureDone expands its enterprise capabilities to support robust EDI cross-platform communication
NEW YORK, May 31, 2018 /PRNewswire/ — SureDone, a leading multichannel listing and order management platform, has integrated Electronic Data Interchange (EDI) directly and natively into its enterprise platform enhancing SureDone's existing large seller and manufacturer capabilities to support integration with enterprise planning and accounting software such as SAP, Oracle and Microsoft."Brands and manufacturers are seeking enterprise e-commerce platforms that support EDI in order to integrate with their existing business processes," said Chris Labatt-Simon, Executive Vice President at SureDone. "We've added this functionality to allow these companies to have an easier time extending their sales and fulfillment channels to include marketplaces such as eBay, Amazon and Walmart.com."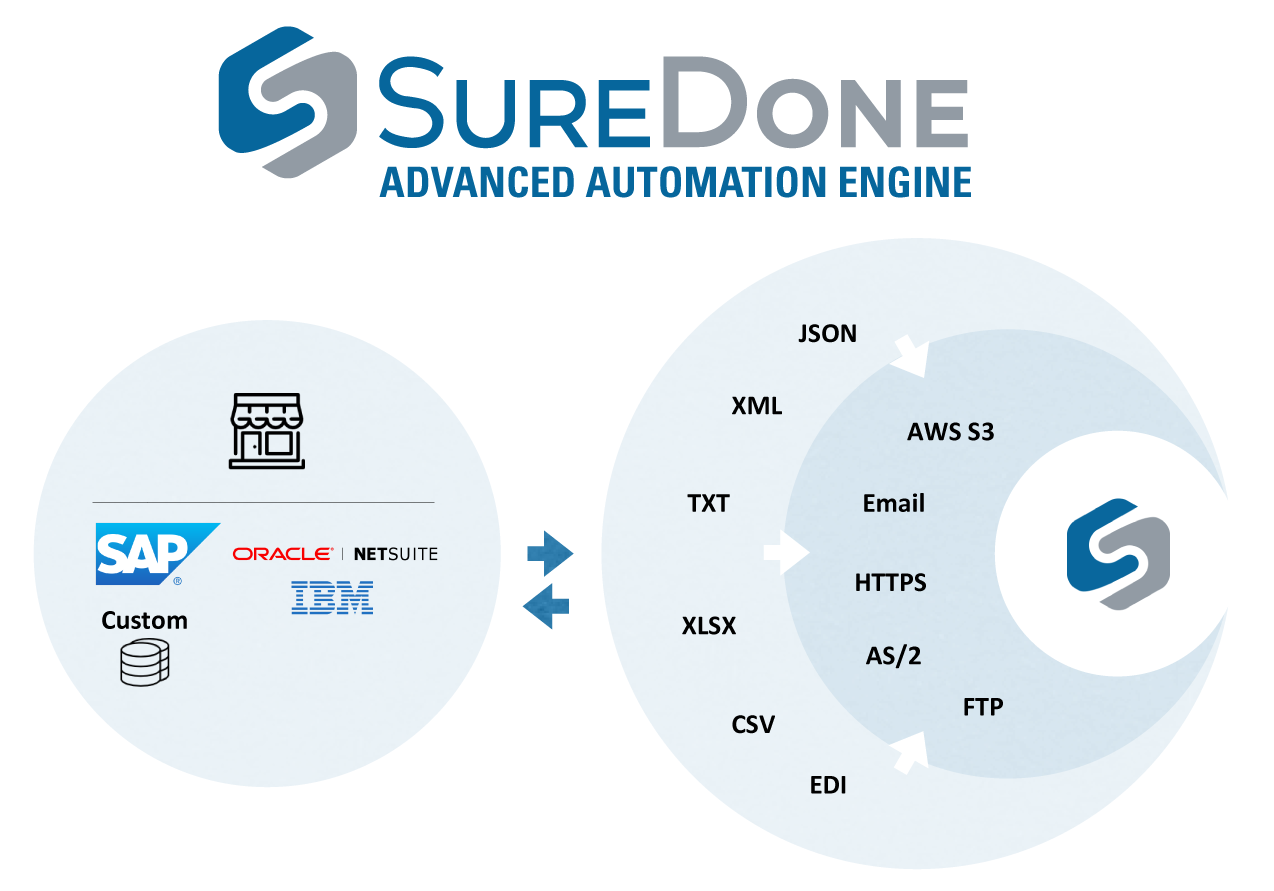 SureDone has directly integrated EDI functionality into its advanced automation engine. Product listing, inventory updates, orders and shipment tracking exchanges are currently supported, and leveraging a direct integration into the SureDone platform, as opposed to using a third party solution, has allowed SureDone to build a templating function into its EDI interface to support almost any kind of EDI form and format – including non-standard forms when necessary. This flexibility puts SureDone at the leading edge of the enterprise multichannel e-commerce marketspace.
"SureDone has always prided itself as being one of the most advanced enterprise listing and order management platforms on the market," said Jason Nadaf, SureDone CEO and Founder. "With the addition of our native EDI functionality we demonstrate that we don't just say we're an enterprise platform – we have the functionality to prove it."
The addition of EDI capabilities to SureDone allows for integration with Enterprise Resource Planning (ERP), Account, Manufacturing Resource Planning (MRP) and other types of complex enterprise systems by leading integrators such as SAP, Oracle, Microsoft and other platforms supporting EDI. SureDone is able to bidirectionally exchange information with these systems. In addition, EDI capabilities will drive near future additions such as integration with Amazon Vendor Central.
SureDone EDI functionality is available today over sFTP, HTTPS and API, and will soon be available via AS2.