SureDone Launches Major Platform Upgrade Including New Order Management System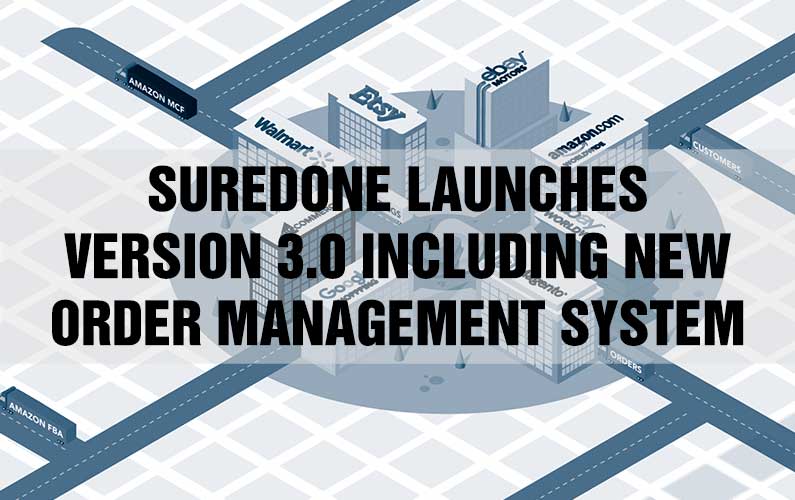 SureDone releases Version 3.0, Includes Major Functionality Upgrades
New York, NY – SureDone, a leading multichannel e-commerce listing and order management platform that helps e-commerce sellers increase efficiency and sales, has released a major upgrade to its software that includes a significantly enhanced order management engine including drop shipping, order splitting and combining and shipping label creation, improving on SureDone's omnichannel order management system listed in Forrester's recent OMS report.
"We gathered hundreds of customer recommendations and combined them with our own industry expertise to create a next generation order management system," said Jason Nadaf, Founder and CEO of SureDone. "More than robust order management within our application, SureDone can now facilitate real time decisions for optimized fulfillment based on cost, time in transit, drop shipping rules, and more for intelligent automated commerce."
Among the new features is comprehensive drop shipping support. Orders may be automatically tagged with drop shipping attributes such as distributor name and costs, and purchase orders can be sent to a drop ship provider in a variety of formats. Tracking information can be automatically imported and sent to a marketplace – all without the need for seller interaction.
Other features include the ability to combine multiple orders to reduce  shipping costs, order splitting, and support for multiple shipments per order so partial orders can be shipped or multiple destinations can be managed. With support for major shipping carriers, SureDone now prints shipping labels reducing the need for external software. Orders can be created and managed in bulk and SureDone will also support return and refund management shortly.
"Our new order management system is focused on providing massive gains in productivity through new features, process improvements and automation," said Chris Labatt-Simon, Executive Vice President at SureDone. "We can lower costs and time spent per order, yet still improve customer service levels for your buyers."
Our new order platform, combined with our advanced automation engine, is the dawn of intelligent commerce in a world where businesses struggle to balance same day delivery with cost optimization.
"These foundations will lay a backbone for the upcoming release of our machine learning based commerce engine," states Nadaf. "All of these components are designed to enable smarter and more efficient selling while decreasing costs and improving profitability."