Improving Sales for Automotive and Motorsports Parts and Accessories on Marketplaces Part 2 of 2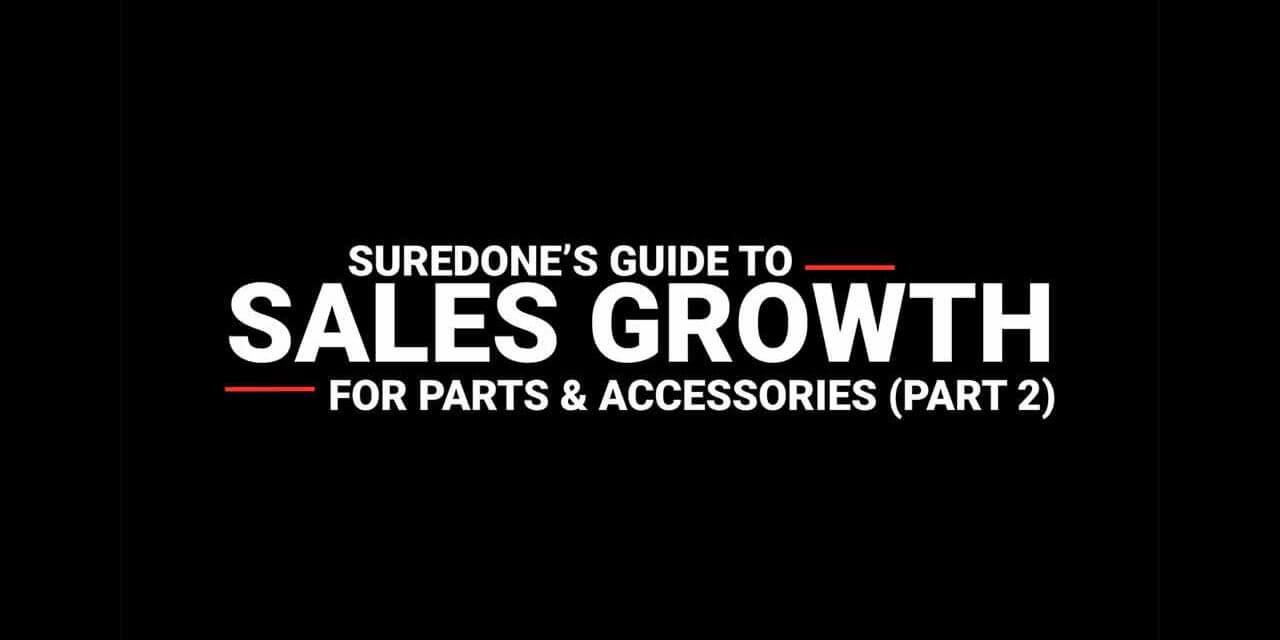 Improving Sales for Automotive and Motorsports Parts and Accessories on Marketplaces Part 2 of 2
This is the second of two in a series of vlogs. Please subscribe to the SureDone Youtube channel to know when the next one is released!
Hi. I'm Chris Labatt-Simon, Executive Vice President at SureDone, a leading multichannel e-commerce management and automation platform specializing in the automotive and motorsports space. This is part two of a discussion about how to be successful selling parts and accessories on marketplaces in such a highly competitive market.
Once again, we plan to have a lot more videos so please like this one and subscribe to the SureDone channel to know when new ones come out.
In part one we talked about enhancing your data and how seller policies can help you show up higher in search results. Let's start off talking a bit more about search results.
What else can you do? On eBay, you need to make sure you are a top rated seller. This means that Your defect rate needs to be below 0.5%. Your cases closed without seller resolution needs to be below 0.3%. Less than 3% of your sold items arrive late to customers. And 95% of your orders have tracking numbers.
As a top rated seller, you'll show up higher in searches and have a top rated seller icon that will help build trust with potential buyers.
In addition, top rated sellers with free returns and zero or one day handling will actually get a 10% discount on final value fees.
Another way to be seen by more buyers is to use programs like eBay's promoted listing program. With this you only pay if the product sells – not just to show up in searches. It's similar to pay per click but think of it as pay per sale. The higher the percentage you bid to give ebay if the product sells, the higher up you'll show in search results.
So I mentioned trust before. eBay gives you a great opportunity to make your item stand out from others and that's by using custom description templates.
There's a big difference between viewing a plain text description verses a description that shows all the categories you sell in, has an image gallery with high quality images, shows your history and your policies, and has content designed to build trust. Think about the difference between walking into a flea market verses a professional retail store. Which one makes you more warm and fuzzy about your purchase?
0Lastly, in business there are a few different ways to make money. There's selling more. That's what we've talked about already. You can increase the price you're selling at. You'll need to do that to incorporate the cost of free shipping but for any other reason this isn't a great thing to do online. Or you can decrease your costs.
I've got a couple of suggestions for this. First, build a great relationship with both a couple of manufacturers and a single distributor. Then ask the manufacturers which products are really important for them to sell. Which ones are they most interested in moving. After you've built a relationship, ask them if you can get a few extra points off on a those specific products. Not all of their products. Just the ones they really want to move. Maybe they can't give you extra points, but they can give you marketing funds to offset the cost of using programs like promoted listings. But they will often give you something when you've created a positive relationship with them and shown a commitment to selling their products.
Then go to your distributor and ask them if you can get special pricing on those same products. Distributor margins are usually fairly thin. Maybe 3 to 5 percent so don't expect a lot, but they may give you a little. And they often have access to marketing funds too, so ask them about that at the same time.
Now you've gotten a pretty reasonable discount on a set of products. A discount most other probably won't have. You can adjust your price down, sign up for promoted listings and pick up some good volume.
And one other area we've seen our customers use those marketing dollars for is to pay for our software. Since we manage your products for sale, expose which item specifics you need to fill in, automate pricing and inventory levels from distribution and also send out drop ship orders, we free up time for you to focus on enhancing your listings. Manufacturers will often pay for this using marketing funds if you sell it to them right. Just a thought. Yes, I know.. it's a bit of a selfish one, but we really do help and free up time.
So there are some ideas on how to be successful in parts and accessories. If you have any other ideas please feel free to comment below or send us an email at support@suredone.com. We'll be glad to include them in future videos and give you some creds for your contribution.
We wish you all the best and success in your online sales, and like and subscribe to our channel to be notified when we come out with more videos.