Improving Sales for Automotive and Motorsports Parts and Accessories on Marketplaces Part 1 of 2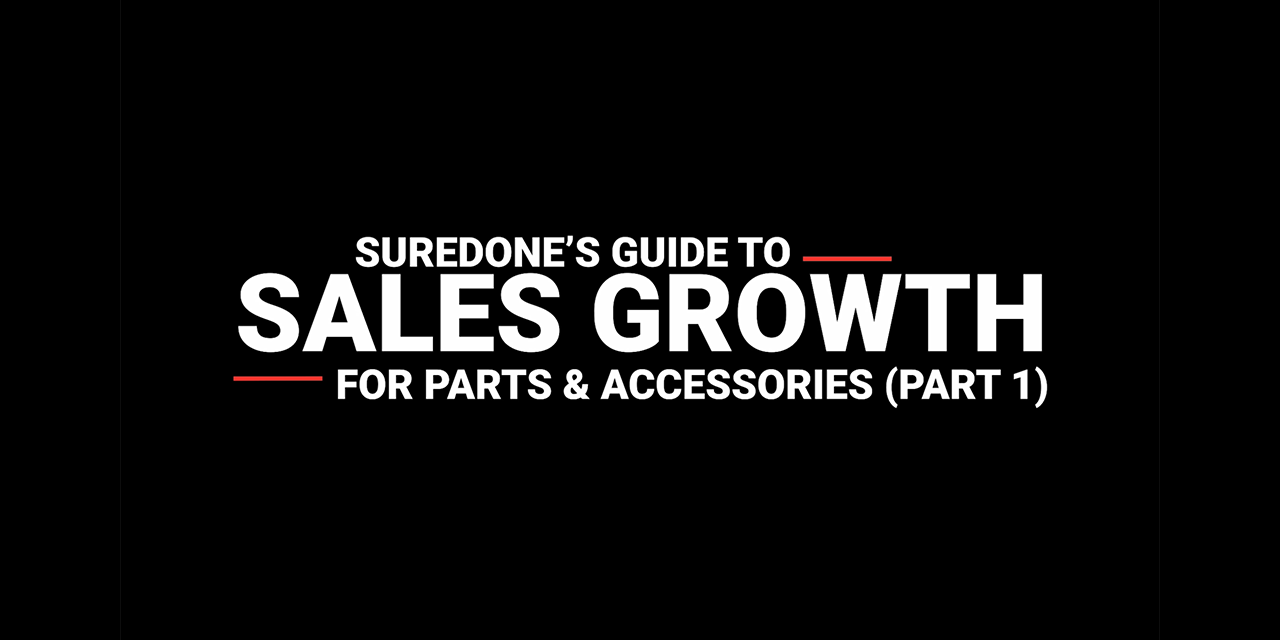 Improving Sales for Automotive and Motorsports Parts and Accessories on Marketplaces Part 1 of 2
This is first of two vlogs. Please subscribe to the SureDone Youtube channel to know when the next one is released!
Here is the transcript from the video:
Hi I'm Chris Labatt-Simon, executive vice president over at SureDone, a leading multichannel e-commerce management and automation platform. We specialize in the automotive and motorsports space so I naturally get a lot of questions about how to make money there, especially when using data from companies like DCI or SEMA Data Co-Op. It's definitely a competitive area. But there is plenty of opportunity.
Before I get started, please make sure to like this video and subscribe to the SureDone channel so you know when new videos come out. This video is part one of two and I'd hate for you to be left on a cliffhanger.
So where do we start.
Some people feel that you can sign up for suredone, sign up for dci, enable inventory sync and drop shipping and go on vacation for six months. You'll come back to a pile of cash.
Hate to say, but If this was the formula, everyone would be doing it.
Chances are, if you go out and search for a part on eBay you're going to find 30, 100, 500 parts listed with the same title, the same pictures, the same description.
This is because there are numerous companies using the same data as you. Chances are, they are selling it for less. Sometimes even lower than your cost.
I don't mean to discourage you. I'm sure it sounds discouraging. But there are definitely ways to make money when selling parts online.
For example, you can list a million products but this probably won't get you anywhere.
You need to consider a number of things. Do all. Do some. They will help.
We're going to focus mostly on eBay in this conversation. With over 182 million buyers, eBay motors is by far the largest marketplace for automotive and motorsports parts and accessories. Amazon is up and coming, but there are fitment and other issues there, and Walmart doesn't even support fitment today – although it IS a great spot for generic accessories or branded items like shirts and hats.
You should keep in mind what I mentioned about how many companies are selling the same data as you and the resulting duplicate listings.
Every day you should go into several of your listings and change a title and description, add new ebay item specifics, change out pictures. eBay is doing a huge push on item specifics so their search engine is really tuned to look for answers in your listings.
You should use the DCI or SDC data as the base, but make the product different than everyone elses listings. Make it your own.
Next, create kits or bundles of products. This will make your product show up for more than one search term. As an example, If someone is buying a new starter, maybe they need the bolts to go with it. It lets you list the same part number several times without it being considered a duplicate by the marketplace.
It's also about being different in the products you sell. Yes, DCI and SDC can give you a ready made list of hundreds of thousands of products and you can easily list those through software like ours. But focus on a subset of them. Look at which products are in medium demand but you can make a higher profit on. Use tools like Terapeak and Algopix to look at product performance and then use what I've already talked about to make them stand out.
You should look at your selling policies. I hate to say it, but the marketplaces want to be better than brick and mortar and not just match their policies. Marketplaces will surface products higher in search that have great policies.
30 day return policies are the norm today so extend the return window to 60 days. Yeah, I know that sucks. Things like free shipping, free returns, and same day or one day handling are great motivators for marketplaces to show you high up in the search results.
Free shipping will also help your products show up in the Fast and free guarantee delivery program on eBay. On Amazon, consider being part of the Amazon Prime program and offering free two day shipping.
This all costs money and will make your part cost more, but people like to know they will get it quickly and that they can return it easily. That's what they can do when they go to a brick and mortar store. I literally just bought a remanufactured starter for one of my cars from a local auto parts store because I couldn't get it next day through eBay. This is your competition. The free returns part is tough, but hopefully your increases in sales will make up for it.
I'm going to stop here for the moment but there will be a part two coming soon. I already have some great notes for what to talk about. I just need to record it. We're going to cover things like increasing buyer trust and also some tips on how to increase your profit margin on items you sell.
Make sure you like this video and subscribe to our channel so you're notified when the next video comes out.