8 Changes Sellers Should Make on eBay to Kick Off the New Year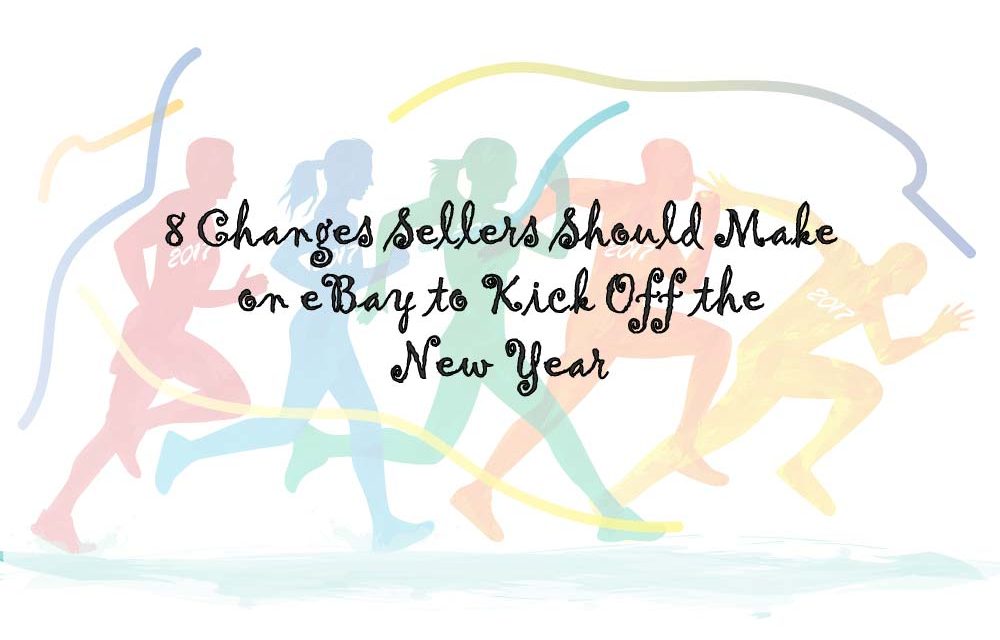 January 1st is just around the corner, and if you are an eBay seller, you might want to take this time to rework your product listings. Get ready for the New Year so you can improve the success of your eBay store and start making great strides with your business. Of course, you are probably wondering just what you can do to get started. eBay tends to be easy to use and work with, so you can make these changes and adjustments relatively quickly and painlessly.
Each suggestion is designed to give you something to consider and not provide an in depth analysis of how to make the change. Every listing is different and needs its own tweaks. Let's look at eight things you might want to do.
Consider a New Template
If you have been using the same template for a while now, it might be time to make some adjustments and to get something new for your eBay store. Take the time to look through some of the options out there and see if a new one might work better for your needs. Depending on the type of items you sell, you may find a template that simply looks better and is easier for your customers and visitors to use. Of course, you should not change your template just for the sake of changing it. Make sure it works as good as or better than the template you have currently.
Adjust the Selling Lengths
Check your products to see if you might need to adjust any dates on them. It will really depend on what you are selling. If you have a fixed price format, you can choose listings that last for 30 days, or you can choose permanent listings that will last until you cancel them. If you are holding auctions, you can choose the number of days you want to hold the auction. Currently, you can choose 1, 3, 5, 7 and 10 days. Think about the items you are selling and make sure you are using the best listing dates for your business.
Change the Title
Now is also a good time to go through all the various listing you have, and that you plan to put up, and look at the titles. You need to make sure these titles are working in your favor. This means they need to be to the point, have relevant information about the product and not have filler words. Give all the titles for items you have a review to see how they stack up. Keep in mind that titles are the first things that prospective customers see, so take a look at successful sales by others for the same products and make changes as needed.
Rework the Descriptions
Along with the titles, make sure you look at the descriptions for each of the products you offer. You want to make sure that you have the best and most accurate information about the product. Choose the most pertinent information about the product when writing the description and be sure to use the types of keywords your customers would likely be using. Make sure you also fill out all the item boxes, as this can help you with getting higher search rankings and improve your eBay selling rate. Take a look at what your competitors are successfully selling and learn lessons from their descriptions.

Consider New Pictures
Look at the photos you have for your products. Are they really the best they can be? If you are using old photos or photos that are poorly lit, you might want to retake them. If you have been using manufacturer's photos for items, you will want to change them out as they are probably the same or similar to what your competitors are using. The photos do a lot of the heavy lifting when it comes to selling all sorts of different products on eBay and other ecommerce sites. You want your photos to be different from all the other eBay sellers out there.
Advertise and Blog
Having your items up and for sale through eBay is just part of the battle. As an eBay seller, you also need to try to drive traffic to your products on eBay. You cannot simply rely on basic search traffic through your site. Instead, make sure you are advertising. You can do this with various types of paid ads. In addition, you can blog about the items you sell, about your company, and about other things that would appeal to the type of customers you are trying to gain. Then, you can send them to your eBay listings to buy if they are interested. Make sure to take a look at our article on content marketing for more information on this.
Consider the Pricing of Items
Look at the prices of the items you have for sale. If you have had some items that simply are not selling well, it might not have to do with the description or the title. Instead, you might be asking more than people are willing to pay. Make sure your prices are in line with the prices from others regarding those products.
Peruse the Competition
Take a bit of time now to see what the competitors are doing. You can check out their titles, descriptions, prices and more to see how you stack up to them. Then, you can adjust the areas above to help make your products more competitive.
You have a lot to do before the New Year if you want to have success with your eBay store in the coming year. We hope these tips will help you focus on various aspects of your listings that will help make you more successful in 2017.
Resources: